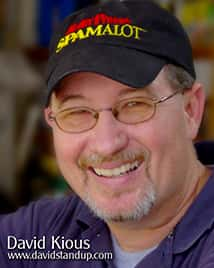 David Kious is one of the funniest feature comedians currently touring the Midwest. After years of performing improv, theatre and radio, David has packed up his life experiences and taken them on the road. He talks about relationships, college, country music and, of course, his cats.
David can bring his clean show for corporate and family-friendly events. And he can always get rowdy when requested. He has opened for many national acts, including Jimmy "Dy-No-Mite" Walker, Weird Al Yankovic, Blake Clark and Tim Cavanaugh.
David's been thrown out of some of the best clubs in America:
The Improv . Kansas City, Missouri
Stanford's Comedy House Kansas City, Missouri
Stanford's Comedy House Overland Park, Kansas
The Comedy Club Denver, Colorado
Wit's End Westminster, Colorado
The Funny Bone Des Moines, Iowa
Star City Cafe Lincoln, Nebraska
Noodles Comedy Club Des Moines, Iowa
U.S. Army Ft. Leavenworth, Kansas
ComedyCity Kansas City, Missouri
Bowinkles Sports Bar & Grill Manhattan, Kansas
Fat Tuesdays Eureka Springs, Arkansas
Crockey's Branson, Missouri
Deloitte & Touche Kansas City, Missouri
Pepperoni's Sioux City, Iowa
ReMax Realtors Kansas City, Missouri
Sam's Wholesale Club Kansas City, Missouri
J.D. Reece Kansas City, Missouri
The End Zone Elk City, Oklahoma
Rancher Spirits & Billiards Jackson, Wyoming
Radisson Hotel Odessa, Texas
Sénor Pepper's Farmington, New Mexico
Bullfrogs Live Topeka, Kansas
"Support Laughter, Kiss a Comedian"
Book Dave for one of your events: davidstandup.com!