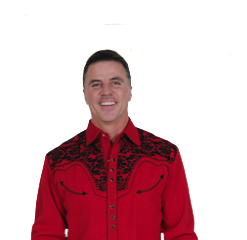 Meet Mike Kennedy, Q104's Program Director and former member of the Morning Drive. Did we mention that Mike is also a 2015 Country Music Radio Hall of Famer!?
Even though you won't catch Mike on the air often, he'll be at many Q104 events alongside other staff members and is actively a part of everyday programming involved with Q104.
I was raised in Emporia, KS. A graduate of Emporia State University and Colby Community College. I began playing radio in the Big E back in 1977 and brought my below-average broadcasting skills to Kansas City in 1988. Played some fun hair band and dance music on KXXR here before joining Q104 back in 1993…best move we ever made. It's been a blast! I love live music, love concerts, really love meeting and watching new artists develop into successes. And when I'm not playing radio, which is most of the time, traveling is fun, like to try and play some golf and when it's summertime I really dig Lake Kahola. There's something about driving around in circles on a pontoon, listening to music and partaking in some cold fellers! Been married to Nycki since 1998 and my daughter Abigail graduated from Mizzou in 2011. Love our station here at Q104 and love the team we have here!
Click here to e-mail Mike!