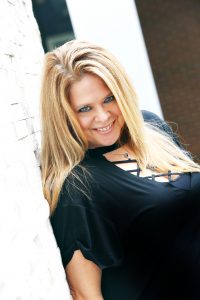 HI IM TJ MCENTIRE…I'VE BEEN AT Q1O4 FOR LITERALLY 104 YEARS…OKAY NOT REALLY BUT 24+! I LOVE THIS STATION, SO MUCH SO THAT I'D NEVER LEAVE UNLESS THEY PUSHED ME OUT OF THE STUDIO! I DO AFTERNOONS AND MY FAVORITE PART IS TALKING TO YOU THE Q LISTENER! CALL ME, TEXT ME, FACEBOOK ME, INSTAGRAM ME, TWEET AT ME IT ALL WORKS. FIND ME AT TJQ104 ON MOST SOCIALS. I HAVE A PASSION FOR Q, MUSIC, THE FANS, AND THE CITY! HECK I'M A HOMETOWN GIRL…FROM INDEPENDENCE, MO! I ALWAYS WANT TO MEET YOU SO WHEN YOU RUN INTO ME AT A SHOW OR EVENT…STOP ME, YELL AT ME, EVEN STALK ME…I'LL DO ANYTHING FOR A HUG. (I KNOW SO NEEDY LOL) MY PASSION BESIDES Q1O4 OF COURSE ARE MY DOGS, COOKING (CHECK OUT MY TJ'S COOKING ON INSTAGRAM), BEING WITH FRIENDS…OH AND I GUESS THAT HUSBAND OF MINE. I'M NOT GONNA LIE HE'S A HUNKY MARINE…
IN SHORT THANKS FOR BEING PART OF THE Q FAMILY, YOU ALL ARE EVERYTHING TO US.
TUNE IN TO 3 TO 7 AND HOLLA AT YOUR GIRL!