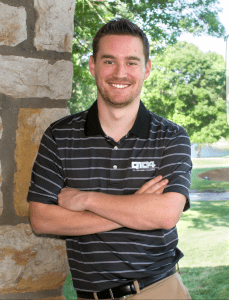 Meet Mike Kellar, our newest afternoon DJ on Q104, taking over your airwaves from 3pm – 7pm, Monday through Friday. Here's what Mike has to say about himself..
"I grew up in St. Louis, and yes, I do cheer for the Cardinals when they come to town. Please don't hate me. 
My favorite things in life are ice hockey, chicken wings, and my PS4.
My least favorite things are bad drivers, snow, and the Oakland Raiders.
I started my radio career at a station in Lebanon, MO in 2006, where I was known as "Wally".
I'm getting married in the Summer of 2017!
We have a dog named Hank, and I'm definitely a dog person. As for cats… I'll keep my opinion to myself 🙂
It's a blessing for me to be a part of the Q104 family and Kansas City community. I'm grateful to be here, and I look forward to entertaining you with great music and terrible jokes for years to come!"