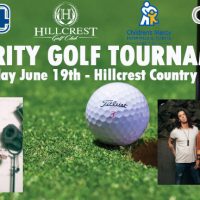 17th Annual Q104
Charity Golf Tournament – Benefiting Children's Mercy Hospital
Tuesday June 19, 2018
Location: Hillcrest Golf & Country Club
8200 Hillcrest
Kansas City, MO 64138
Cost per player is $150 or $600 per team
(Includes: golf, drinks, lunch, dinner, golf t-shirt and concert)
Please make checks payable to: Q104 Charity Golf
Mail entry forms and checks to:
Q104 Charity Golf
Attn: Zeke/Ashley
508 Westport Road, Suite 202
Kansas City, MO 64111
Payments in full must be received to hold registration!
First 30 teams will be guaranteed a spot. Only teams of four will be guaranteed a spot. Singles or teams of two cannot be guaranteed a spot.  The tournament is reserved for golfers only.  When we receive your paid entry form we will send the captain a confirmation letter via e-mail.  All information on the golf tournament will go directly to the team captain.  Any questions about the tournament can be e-mailed to zeke@q104kc.com or asnow@steelcitymedia.com THANK YOU FROM Q104 AND THE MORNING DRIVE!
Sign up TODAY to be apart of our Q104 Celebrity Golf Tournament with Joe Nichols on June 19th at Hillcrest Country Club!