For More Morning Drive Podcast Click Here
---
Mike Evans Podcast

The 2018 CMT Music Awards will be held on June 6 in Nashville, bringing together the most popular country music artists under one roof.

Back in April, Thomas Rhett dropped his new EP that features four versions of "Leave Right Now," a tune from his 2017 Life Changes.

Jason Aldean's Rearview Town is again the top album, and Kane Brown's "Heaven" still the most-played song, as the Billboard country charts look pretty

Chris Janson's current single, "Drunk Girl," is currently No. 27 on the Mediabase chart. And now the video accompanying it has just been revealed.

Fresh off tours with Luke Combs and Miranda Lambert, singer and songwriter Ashley McBryde just announced dates for her first-ever headlining tour, which will

Luke Bryan's next single is going to be "Sunrise, Sunburn, Sunset," taken from Bryan's newest album, What Makes You Country. "Sunrise, Sunburn, Sunset" tells
The Timberwolf at Worlds of Fun is newly renovated, with a new and improved re-engineered track and a new twist ending! Listen all week
Schliterbahn Waterpark is opening THIS WEEKEND! Listen all week for your chance to win a pair of tickets and you're instantly qualified to win

Dan Smyers, 30, and Shay Mooney, 26, of the country duo "Dan + Shay" were married within six months of each other last year

Dierks Bentley has released his new video for the single "You Can't Bring Me Down." The song follows the release of "Woman, Amen," "The
It's a Winning Weekend on Q104! Listen all weekend for your chance to win a pair of tickets to Kicker Country Stampede at Tuttle

Darius Rucker announced he will perform live on the season finale of American Idol on May 21. The two-night finale, which begins on May

Midland filmed the music video for "Burn Out" and in doing so they also paid tribute to one of the most memorable cowboy movies

Chase Rice is doing well following successful surgery on his pectorial muscle, after he injured it while shooting a new music video. Rice shared

On Florida Georgia Line's Instagram page, FGL's Brian Kelley dropped a video that may have teased the opening of a new restaurant — FGL

Inside Out Makeover- Winter 2018 Winner Arevia's 4th  Blog Post About Her Journey Yoga (CorePower Yoga) and my works outs (Pure Barre) are just now

Country singer Sam Hunt announced via Instagram on Tuesday, May 15 that he plans to release a brand-new single, "Downtown's Dead," on May 16.

Kane Brown's "Heaven" rises to #1 on this week's Mediabase country radio singles chart. The song, which was #2 last week, took the title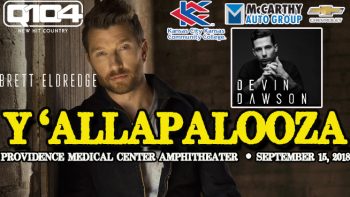 Q104 Presents Y'allapalooza 2018 Q104 and McCarthy Auto Group and Kansas City Kansas Community College present, Y'allapalooza 2018 starring Brett Eldredge and Devin Dawson. Saturday September 15th at Providence

Country superstar Maren Morris announced Monday she will be performing at the 2018 Billboard Music Awards. Morris will take the stage to perform "The

Dierks Bentley is set to celebrate the release of his ninth studio album, "The Mountain," with a late night album release show at Nashville's Ryman

Dan + Shay have released a new track, "All to Myself," the second song from their forthcoming third studio album with Warner Bros. Nashville.

Kacey Musgraves performed two tracks from her new album Golden Hour, on this weekend's Amy Schumer-hosted episode of Saturday Night Live. Backed by her 12-piece band,

Michael Ray just released his latest video to country radio, "Get To You." The clip shows the Florida native trying to share his heart
For More Mike Evans Podcast Click Here