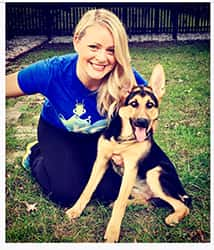 Ali; Happy Enthusiast, Kindness & Love Activist,  Kitchen Master, Shop- a- holic, Tequila & Champagne Drinker, Mexican Food & Pizza Addict, Royals Chiefs and Mizzou Supporter, Country Music Devotee, Disney Nut, JDRF Advocate and America lover.
Ali was born on September 10th, 1985 in Sacramento, California. Family, friends, Andrew (hubby), and dog KC May mean the WORLD to her! 
 Ali is a proud country music fan, her favorite country artist is Kenny Chesney! Ali has spent over a decade in the radio broadcasting world working in both Top 40 and Country Music that has taken her through Sacramento California-KDND, Jacksonville Florida-WAPE, and Columbia Missouri-KCLR & KTXY.
You can reach Ali by emailing her anytime! Feel free to shoot her an email at Ali@Q104KC.COM
Catch Ali on the Midday show on Q104 from 10am-3pm.
Check out Rally House/ Kansas Sampler  for all of your game day fashion!