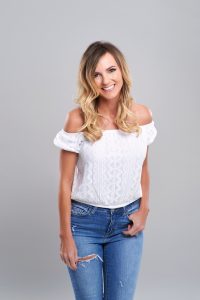 Hello! I'm Jenny Matthews and you may have heard me on our sister station, Mix 93.3, where I spent 15 years hosting middays. I'm so excited about this move over to Q104. I've been a fan of country music for a long time. I fell in love with it when I co-hosted a country radio morning show in West Palm Beach, Florida in the early 2000's.
When I'm not on the air, I'm in mom mode. I have a nine year old daughter, Julianne Faith, and a seven year old son, Miles Parker. They keep me on my toes! I live in the Northland with my husband of 15 years, Matthew. The love of my life! We met while I was on that Florida morning show — he emailed me and asked if I was single! The rest is history. We also have two very spoiled dogs — a Boxer named 'Oscar' and a Boston Terrier named 'Otis'.
Radio has always been my passion, but I also love to write. I contribute a monthly article to 'Her Life Magazine' called 'Just Sayin'. I also have a website www.jennymatthewsonair.com with a blog and podcast (also available on iTunes, Stitcher, etc.) 'Real Life with Jenny Matthews' where I keep it real about life, motherhood, pop-culture and everything in between!
Thanks for welcoming me to the Q104 family! I'm really excited to be here.