Did you know breast cancer kills more than 40,000 people each year in the United States? That's unacceptable.
Breast Cancer is unacceptable.
One of our top priorities is educating women on what they can do to be proactive with their breast health. Knowledge and early detection saves lives.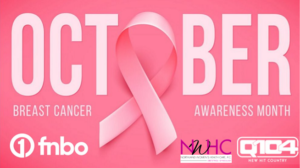 Thanks to FNBO for teaming up with Q104 to offer these tips from the Centers for Disease Control and Prevention
* Keep a healthy weight and exercise regularly.
* Don't drink alcohol, or limit the amount of alcohol you drink.
* If you are taking hormone replacement therapy or birth control pills, ask your doctor about the risks.
* Breastfeed your children, if possible.
_______________________
Northland Women's Health Care's all female staff provide personalized obstetric care that puts your health and the health of your baby first. 
Call (816) 741-9122 to schedule your appointment today. 
_______________________